What were restructuring lawyers up to in H1?
The first half of 2023 exemplified volatility in the credit market, with notable activity in the banking, real estate, and healthcare sectors, sparking an increase in restructuring advisory activity and interest.
The updated Reorg Advisor League Tables for the Americas utilize primary and proprietary data from Credit Cloud to analyze activities among Legal Advisors, Financial Advisors and Investment Bankers in the first six months of 2023 in order to benchmark their workload and approved fees.
Legal advisors were well able to make their mark, outpacing restructuring activity in the whole of 2022 by several metrics.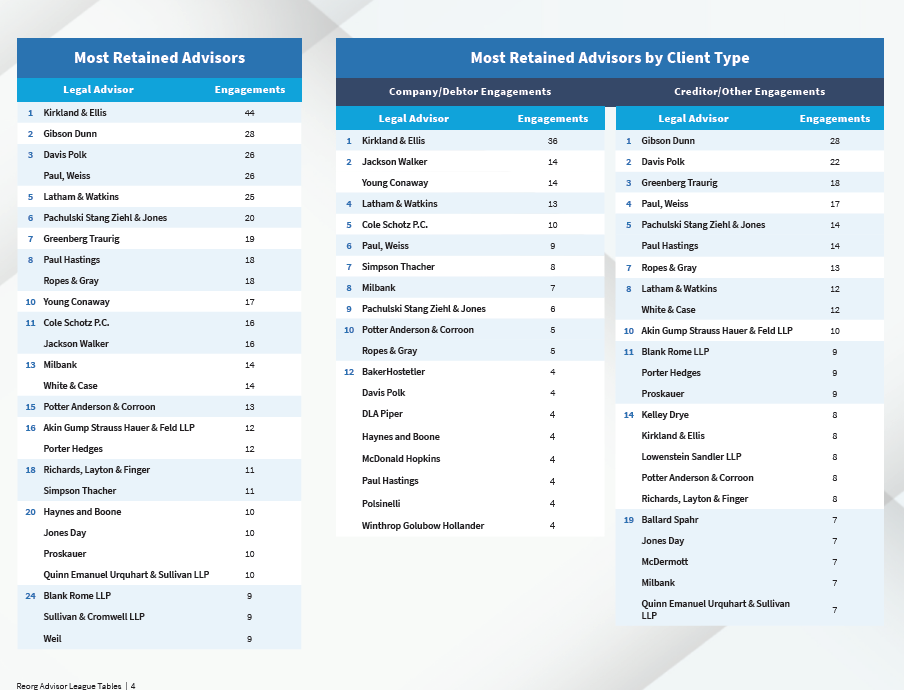 A few key takeaways on advisor activity at the half-year mark versus the prior year include:
Kirkland & Ellis continues to lead Legal Advisor engagements overall and in debtorspecific
engagements, with 44 and 36 respective engagements in H1 2023, while creditor
engagements remain topped by Gibson Dunn's 28 engagements. All three of these
numbers already outpace their 2022 counterparts.
At the six-month mark, gross fee leader Cleary Gottlieb nearly doubled the the second highest fee earner (Akin Gump) with over $91,800,000 in final fees approved. This displaced the 2022 incumbent
Kirkland & Ellis, who grossed just over $121M across all of 2022.
To more fully analyze and compare legal advisors across retentions, fees, engagement type, and more, download the report here.
If you'd like to stay up-to-date on the latest intel, data, and reports from Reorg, sign up for our weekly newsletter Reorg on the Record.